| | | | | |
| --- | --- | --- | --- | --- |
| [ | mood | | | contemplative | ] |
On Wednesday the 9th of May, Kyle and headed of to see, a band of three.
They go by the name of Boris you see.
(Also another band; sunn O))); of much more than three.)



Boris were to start the gig off, after much waiting outside, then much more waiting inside, most of which was spent under depths of fog, marveling at the mass of amps only a few feet away from us. We were up against the stage you know. It was awesome!
Boris started their epic journey out with the long brooding "Feedbacker" which subtly built into a cacophony of psychsludge of mamoth proportions, Takeshi weilding his double neck bass/guitar with prowess and power, while Wata's solid yet sensitive guitar work sang over the top. All the while Atsuo is pounding his gong, or murdering his drumkit, screaming with all limps flailing. After a short pause for tuning, they jumped straight into the demonic "Blackout" which errupted like a volcano. Once that song (Extended a bit.) drew to a close, they jumped straight into Pink with all it's classic rock power and drove it home like a runaway steamtrain. Song's like this one were especially great to watch Atsuo's drumming, It's crazy the amount the man can move while stil ldrumming flawlessly, his knee's get above his head at times! Just when you thought they might have gone to aslower number the launched straight into "Woman On The Screen" guitars, drums and hair flying wildly, screams comming from everywhere, absolute rawk! Conitinuing on the theme with the fuzzed up "Nothing Special", not stopping with the increasingly more ROCK "Electric" before they finally stopped the barrage for a short tuning break, which they moved out of with the softly droning coldly building "A Bao A Qu" which was one of the most beautiful songs I've seen live. Although that was then rivaled by the equally lovely "My Machine", this ambience wasn't to last. When "Just Abondoned My-Self" started with furious intensity, and slowly worked it's way down into a psyhdoom dirge as Atsuo ran about the stage and jumped into the croud, like a madman; finally ending in a wall of warm fuzzy noise. They finished their set off with the aptly titled "Farewell", a perfect ending to an awesome amoung awesome gig.

( Foggy Pictures.Collapse )

Then we had to wait again, funnily enough sunn O))) etc, set up thier gear themselves. Also while we were waiting we saw Wata leave with her baby, it was quite cute, the poor baby was sleeping through all that ruckus.

After the fog had built up suitably and there had been silence for some time, the lights dimmed, and a cloaked Oren Ambarchi entered. After a moment of adjusting his table of effects, he picked up his (Oddly unfitting.) childlike guitar and started to build up layers apon layers of his signature resonant drones, adding in subtle touches of glitches and melody. After a few minutes of this, when the layers loops had built enough to start confusing your ears, out comes Attila Csihar (Of Mayhem fame.) adorned in the tradmark black robe, but with a red hood and blackmetal facepaint. You would imagine at this point he would start shrieking like a banshee, but no! He started chanting, quite otherworldly chants too, with some subtle throat singing, I belive some of what he was singing was in latin. Very interesting, and very cool. After he had writhed around, chanting atop Oren's loops out comes Tos Nieuwenhuizen, Greg Anderson and Stephen O'Malley. Thier long black cloaks dragging on the ground obsuring their figures as they shuffle to their altar of amplifiers. As Attila slowly sits down, they slowly pick up thier guitars (Tos stands in front of his Moog Prophecy synth.), and with one allmighty blow the entire hall is vibrating with the greatest display of power I have ever seen. Sound so loud and deep it becomes more than sound. So loud and bass ridden it makes everything vibrate, and resonate. Once that first strike of the picks, you know, you just know, that this is the memory that will stay with you forever, even if your hearing dosn't (Which itprobly won't after this!). The pure power of the amplifiers being controled with nothing but guitars and a few effects pedals, is amazing, the way they can keep the beast in it's place and weild it like a weapon, capable of injuring people (Litrally, several people passed out, got blood noses, other bodily functions going awry, all purely from soundwaves.), the way the soundwaves masage and caress your body is amazing, it's like a crazily intenese massage that gets every little bit of your body. Especially when Tos Nieuwenhuizen, is manipulating all the very very very low frequencies; the one's that you can only feel, and ohh how you feel them. In time Atsuo came out to molester his gong, which he sure did, as well as croudsurfing, at one time with a micstand. After some time of this Sin (Nanna) of Striborg fame, entered and crouched down next to attila, and screamed into a mic which he manipulated with a small green pedal, as the air around was pulverised. As all this chaos was going on, it was amazing how tight Greg Anderson and Stephen O'Malley kept their playing, extremly slowly merging from one riff to another. At one point Stephen O'Malley was holding it down that well that Greg Anderson was able to take a short nap before the big finaly. As this incredibly epic song drew to a close, all instruments near breaking point were hoised into the air and all the sound crumbled away leaving your body soft and numb after the otherworldy experience that had just happened. The one song clocking in at close to 2hrs.
There was nothing but silence, the band left the stage, the fog cleared and the lights came on. It was over.

( More Imagry.Collapse )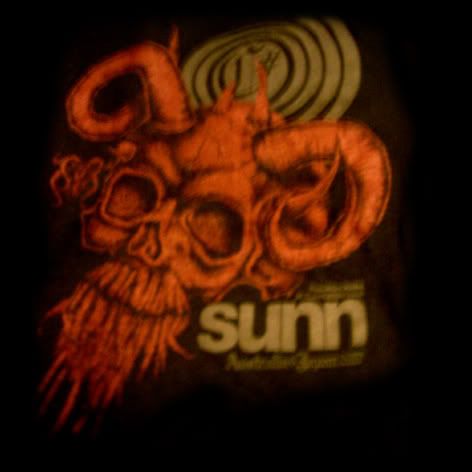 It really was amazing how much the sound made things move, at one point my t-shirt and hoodie were resonating so much it felt like I wasn't wearing them.
The 5cm thick cables that link up the foldbacks on the stage were bouncing about 10-15cm off the stage because it was vibrating so much.
Oren's pedals were vibrating off his table.
Words just can't describe the imencity of the sound, it really was so so much more than sound, it was just crazy!